Brisbane Removalists
Furniture Removalists Brisbane
Your Greater Brisbane Local, Interstate, and International Moving Experts
Locally owned and operated, Whybirds is the trusted name in Australia's removals industry, proudly moving generations of Australians since 1857 (no other Brisbane Removalists can claim that!).  For a reliable and cost effective moving experience, Whybirds is the furniture removals Brisbane and furniture storage Brisbane  provider of choice in Brisbane and surrounding areas.  Our team is looking forward to hearing from you – let's get it started by helping you with a free quote today!
Furniture Removals Brisbane and Furniture Storage Brisbane
We have a team of local and interstate Brisbane furniture removals professionals in Brisbane who are trained to provide the highest level of Brisbane removals service to our customers. We can give you a walkthrough of the entire moving process. Whether you're moving across the street, interstate, intrastate, overseas, or simply need furniture storage for a while – our friendly removalist team will be happy to get the job done for you. Why not start off with a free quote, and see what we can do for you?
If you're moving not too far away, you'll probably drive your own vehicle, but if your move is a bit longer and you're not keen on a long drive, then let us help with interstate vehicle transport.
And last but not least, the family pet is a big part of any move! Moving your pet is a specialist function, and Whybirds works with the very best pet moving companies in Australia to ensure that your pet is taken care of just like one of the family. Your Whybirds Move Consultant will help arrange everything needed to ensure that your interstate pet transport needs are well taken care of.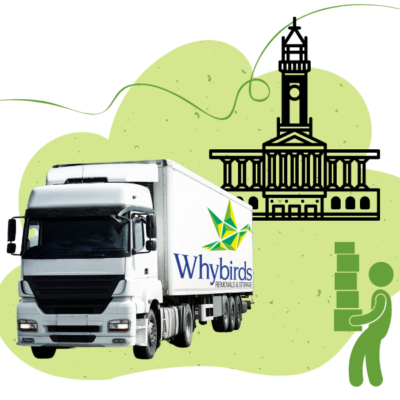 Over 100 years of Interstate Removalists Brisbane Experience
Whybirds has been moving Brisbane families since 1857.  Generations of Brisbane families have moved Interstate with Whybirds because of our reliability and depth of experience.  No move is too big or too small, and our trucking fleet moves customers goods up and down the Queensland Coast, and into our Australian outback townships on a daily basis.
Our support of the local community has been a consistent part of what has made us one of Australia's premium Interstate Removalists.  Its what we stand for as a family owned business, and has been that way since our founder began the business in Ipswich in 1857.
What do Brisbane removalists consider when quoting for my move?
Brisbane Removalists will consider a number of factors when putting a quote together for you. The two main factors are always going to be where you're moving from and to, and the volume of your move (measured in cubic metres).
Although it won't be a significant issue for most moves, there are a few more considerations Brisbane Removalists take into account, and your move consultant can talk you through those variables to make sure we quote you accurately the first time.   If you have large and heavy items where we need to ensure we have additional manpower available (eg Pool Table moving, Piano Moving, or heavy garden ornaments), or if our trucks are unable to safely able to park close to your home, just let our consultant know and we'll ensure we have the appropriate staffing and equipment available on the day of your move.
Brisbane seasonality is also something to consider as impacts the removals industry fairly predictably each year.  If you move from November to February, pricing increases during this peak season for all removalists.  For some families where school holidays, work-related moves, or other reasons, there may not be much option to move outside of this time. Make sure you book in early – not just to get the best pricing, but also to get peace of mind that your move is booked in and you won't be looking around at the last minute for a Brisbane removalist to support you.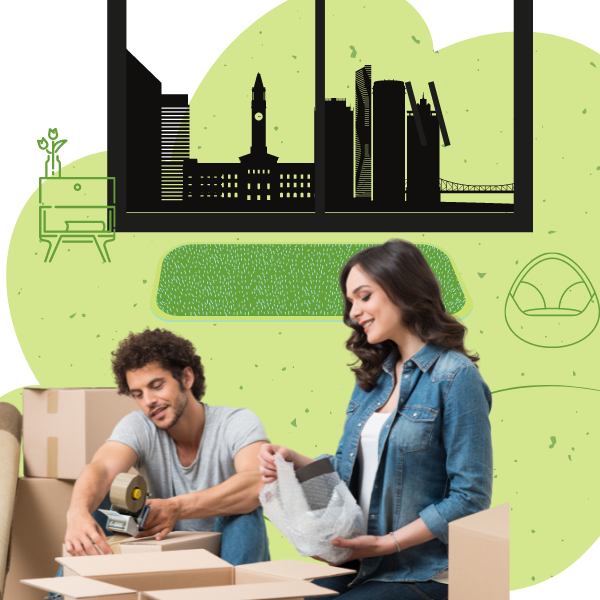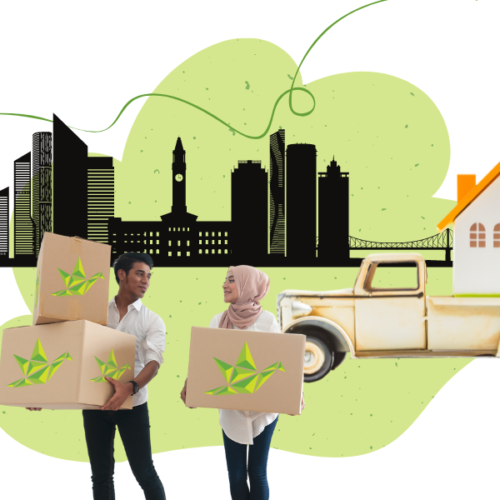 Serviced Areas – Does Whybirds do Furniture Removals in my area?
Whybirds tailors each move to customer needs, from basic local moves in Brisbane to high-end interstate and international moves.  We provide a comprehensive suite of business, local, interstate, Intrastate, and international moving services, as well as providing Storage services throughout Queensland and the Northern Territory. If you're looking for removalist services in the Greater Brisbane area, please click the link for your free quote.  If you're not in Brisbane, but in the surrounding areas, we service that too…. You can find more specific information on the main areas below.
Gold Coast Removalists
Servicing all suburbs of Gold Coast including Southport, Main Beach, Surfers Paradise, Broadbeach, Mermaid Beach, Nobby's Beach, Miami, Burleigh Heads, Palm Beach, Currumbin, Tugun, Bilinga, and Coolangatta.
Sunshine Coast Removalists
Whybirds regularly services inbound and outbound moves to all areas of the Sunshine Coast region and beyond, including all the popular areas from Noosa Heads down to Caloundra.
Ipswich Removalists
Whybirds has a major logistics hub based in Ipswich, so it's no surprise that we have a very strong service capability in Brisbane and the areas around Ipswich.
Toowoomba Removalists
Toowoomba is a growing region, and Whybirds has been servicing the area for over 100 years, from well before the days when Toowoomba was connected to Brisbane by quality highways.
Hervey Bay Removalists
Known as a wonderful retirement location, with a growing local economy. Hervey Bay sees a lot of people moving there from Brisbane.
Some of the major suburbs that we find ourselves in quite often around the Brisbane area are below.  We service all of these areas around the greater Brisbane region from our Brisbane operations and have moving trucks and experienced teams working all throughout the Greater Brisbane region every day of the week. Don't worry if you don't see your suburb area here, we have offices all throughout Queensland and the Northern Territory to support your move, just ask for a quote and we'd be happy to help.
Brisbane City Removalists, Caloundra Removalists, Jindalee Removalists, Northside Removalists, Acacia Ridge Removalists, Bribie Island Removalists, Indooroopilly Removalists, Capalaba Removalists, Carindale Removalists, Sunnybank Removalists, Beenleigh Removalists, Caboolture Removalists, Chermside Removalists, Redcliffe Removalists
10 Fun Trivia Facts About Brisbane to Stump Your Friends With!
1. Brisbane was named after Sir Thomas Brisbane, the former government of New South Wales who established the city's original penal statement in the 1820s. The city was known to the Aboriginal people as Meanjin, meaning "place shaped like a spike".
2. Brisbane enjoys sunny days and clear skies almost year-round. In 2013, the city had 283 days of full sunshine, with winter days rarely dipping below 20°C, allowing its residents and visitors to enjoy the city's extensive list of attractions and outdoor activities.
3. There's a good number of nature parks that you can explore in and near Brisbane with several locations offer walking tours and other activities that you can enjoy throughout the day:
Brisbane Botanic Gardens
Moreton Island
Lone Pine Koala Sanctuary
South Bank Parklands
Mount Coot-tha Lookout
4. Brisbane also hosts the following annual events:
Royal Queensland Exhibition (locally known as Ekka)
Brisbane Festival
Brisbane International Film Festival
Buddha Birth Day Festival
Anywhere Festival
Caxton Street Seafood and Wine Festival
5. During WWII, Brisbane was the busiest submarine port in the world. Ships headed to Pearl Harbour were diverted to Brisbane and by 1943, the city was host to more than 75,000 American Troops. Although the Brisbane was close the "action", it was out of range of the Japanese bombers.
6. The Suncorp Stadium is built on the site of what used to be Brisbane's first cemetery. The burial ground established in 1940 was later moved as the city was developed.
7. The North Stradbroke Island and Moreton Island in Brisbane are the second and third-largest sand islands in the world.
8. Lamingtons were first created in Brisbane. These delicious treats were created by a French chef who served Lord Lamington (former governer of Queensland) and Lady Lamington cut up pieces of sponge cake, dipped them in chocolate, and covering them in coconut.
9. Located in Fig Tree Pocket, the Lone Pine Koala Sanctuary is the largest and oldest Koala Sanctuary in the world.
10. There are 15 bridges that cross the Brisbane River, the most popular of them all is the Story Bridge whilst the others are not as popular.
Want to see what trivia facts we've put together for other locations? Check these out here:
Moving From Brisbane?
We're not sure why you'd want to leave beautiful Brisbane….. you must have an amazing opportunity somewhere else! But if you do need to leave, Whybirds is there for you. We can move you anywhere in Australia or internationally, ..… but here are just a few of the more popular places we've been moving customers to over the last year or so. Click here for your free quote.
Local Movers Brisbane Not What You're Looking for?
If Brisbane isn't the location you're looking for, perhaps one of these is?
Packing Boxes Brisbane
If you're in need of moving boxes or cartons, and packing supplies. Give us a call, we'd be only to happy to deliver those to you prior to your move so that you have plenty of time to pack and prepare for the day our team arrives to get you moving.
Car Transport Brisbane
Moving your home and don't want to drive your car all the way to your new location? Just let us know and we'll arrange safe and secure vehicle transport for you to wherever you're moving.
Pet Transport Brisbane
Our pet transport process is simple and safe. Learn more about our pet moving solution, and let us take care of your pet as part of your move.