Relocating to Darwin
Darwin is the capital city of the Northern Territory (NT) and the smallest state capital in Australia. It has a relatively small population of around 150,000 people and the majority of the city's inhabitants are pretty laid back. Darwin boasts a rich history and culture. Living here will allow you to connect with nature and Australia's indigenous people.
Its isolated location is not the only thing that makes Darwin unique. Other Australian cities experience 4 seasons, while Darwin experiences only 2 — the wet and dry seasons.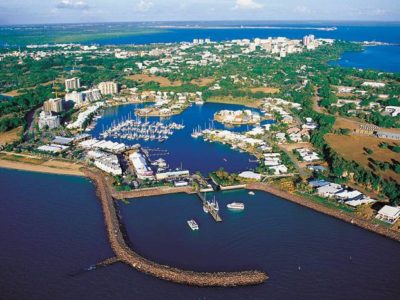 Living in Darwin Guide
Aside from its unique weather, here are some of the things that you have to consider if you consider moving to Darwin:
Cost of living
Since Darwin is quite far from other major cities, the cost of living is quite high. Food and several grocery items are more expensive here compared to that of Sydney's. However, monthly rental costs and other services are cheaper compared to that of Sydney and other cities for the same reason. These prices are expected to continuously drop as more apartments and housing establishments are built to accommodate the city's growing population due to vast employment opportunities. In recent years, there has been an increase in relocation to Darwin due to employment.
Housing
Average monthly household rental payment – A$1,835
Average monthly household mortgage payment – A$2,383
Food
Basic lunchtime menu in the business district – A$16
Take away food – A$13
12 large eggs – AU$5.60
500g of local cheese – AU$9
Bread for 2 people for 1 day – A$2.75
1kg of apples – A$4.33
1L of whole fat milk – A$1.31
Personal Care
Cold medicine for 6 days – AU$11
1 box of antibiotics – AU$21
Tube of toothpaste – AU$4.0
4 rolls of toilet paper – AU$3.30
Hair shampoo 2-in-1 (400 ml ) – AU$9
Economy
While it is the smallest capital city, Darwin is one of Australia's thriving business capitals. Government employees of Darwin make up around 60% of the city's workforce. The remaining percentage consists of workers from various industries including mining, tourism, gas and oil production, etc. Additionally, the Port of Darwin serves as the main outlet for the country's live cattle export trade to its neighbouring regions, especially in South East Asia.
Education
With more than 40 educational institutions situated in different parts of the city, pursuing quality education in Darwin is quite easy. Due to its tropical climate, Darwin offers a relaxed outdoor lifestyle and multicultural society to students. The well-known Charles Darwin University is also located in Darwin. The university has other campuses spread across the states of Australia's Northern Territory.
Leisure/Attractions
Darwin offers a relaxed and slow-paced life. While the city has a good number of shopping centres, restaurants, cafes, and housing establishments, Darwin is best known for its outdoor attractions and beautiful wildlife. If you're fond of the outdoors and nature, Darwin is an ideal place to live in.
The dry season, from May to October, boasts of sunny days, clear blue skies, cool evenings, and comfortable levels of humidity (between 60-65%). This is the time of year when the city is crowded with tourists and families trying to enjoy the great outdoors and warm weather while it is slightly colder in other parts of the country. Coastal areas and nature parks are only some of the common areas where families true different activities or hold picnics and little get-togethers. This is also the perfect time for exploring markets and attending festivals.
During the wet season, from November to April, Darwin comes to life with numerous animal species. Mid-day storms and raging waterfalls are also a breathtaking sight to witness. If you choose to move near the coast, you'll still be able to enjoy beautiful sunsets in peace.
Mindil Beach
Mindil Beach is located in a suburb called The Gardens, near Darwin. The beach is known for its breathtaking sunset views and the popular Mindil Beach Sunset Market. Locals and tourists usually visit the beach to unwind while waiting for the sun to take a dip.The famous Mindil Beach Sunset Market operates from the last Thursday of April until the last Thursday of October (4:00 PM to 9:00 PM). The market hosts more than 200 stalls, including around 60 food stalls offering a variety of cuisines from different countries around the world. Other stalls offer indigenous products, handmade clothing, and many more.
Museum and Art Gallery of the Northern Territory
The Museum and Art Gallery of the Northern Territory (MAGNT) is the main museum of the Northern Territory. The museum was originally housed in the Old Town Hall located in Smith Street in Darwin. It featured Southeast Asian and Pacific culture, natural sciences, maritime history, indigenous culture and contemporary art. The building suffered structural damage and some of the art collections were also damaged when a cyclone hit the area in 1974.In September 1981, the museum's new building, located Bullocky Point, was opened. The new museum featured the history, science, and visual art of the Northern Territory and its people. Other galleries and exhibits were added later on. MAGNT is one of the best places where visitors, both local and foreign, can relax as they learn more about the region's history and culture.
Crocosaurus Cove
Crocosaurus Cove provides a unique and up-close encounter with Australia's saltwater crocodiles. With more than 70 species of reptiles in display, the attraction's Reptile House hosts the world's largest display of Australian reptiles. While the attractions are built to keep the visitors safe, some of the displays and activities are not recommended for the faint-hearted.Crocosaurus Cove's most famous attraction is the Cage of Death. This attraction allows visitors to experience swimming with saltwater crocodiles measuring 5+ meters. The cage, which can hold up to two people, suspended above the waters (where one of the saltwater crocs is already swimming), it is then lowered into the pen for 15 minutes for the visitors to get a closer look of the iconic reptiles. Other attractions include the Big Croc Feed Show, Swim with Crocs, Fishing for Crocs, Hold a Baby Croc, Freshwater Aquarium, World of Crocs, and Turtle Billabong.
Berry Springs Nature Park
Berry Springs Nature Park was part of a rest and recreation camp set up by soldiers who were deployed in the area during WWII. Now, it is a popular destination for visitors who are looking for a place where they can relax and be closer to nature. The nature park is home to several spring-fed swimming holes where visitors can swim in on certain months. The park also has several shady areas, making it a perfect spot for walking and birdwatching.The park has several facilities that are available for the visitors' use including a kiosk, a picnic area, toilets, showers, and changing sheds. Berry Springs nature park is ideal for family outings on weekends, especially every March-April when the native flowers are in full bloom.
Defence of Darwin Experience
The Defence of Darwin Experience features the story of Darwin's role in WWII. The experience was opened in 2012 as part of the 70th commemoration of the bombing of Darwin.Known as "the first facility in Australia to provide an immersive, interactive, multimedia experience", the Defense of Darwin Experience showcases a Bombing of Darwin Gallery. This includes iconic items from that period, as well as multimedia presentations. The experience also has a theatre which takes visitors back to the events of the bombing in February 1942 with the help of multi-sensory elements.
Transportation
Due to its size, moving from one place to another (within the city) is quite easy. Despite being a small city, Darwin has several means of transportation available to the public.
You may opt to take public buses to go around the city and other suburbs such as Palmerston and Casuarina. There are also bus links to get you from the CBD to the airport and vice versa.
Taxis may be engaged in designated taxi ranks around the city. You may also hail for one on the kerb of the street or pre-book one online or over the phone.
If you're not in a hurry, you may also walk or take your bike to move around the city. Since it's mostly sunny, Darwin is one of the places where walking or cycling to work or explore the city can be relaxing and convenient.